Food Safety and Environmental Commitment
All of our Members are independent businesses, which are audited and approved under the Red Tractor Assurance scheme. The objective of the scheme is to address the concerns and needs of consumers, retailers, processors and growers for safe food of good quality at affordable prices. The Red Tractor logo on our products is recognisable and widely understood by consumers, giving added peace of mind when purchasing.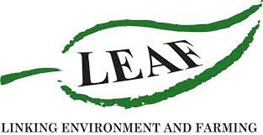 Asplins and all of our Members are members of LEAF, and as such are committed to a viable agriculture, which is environmentally and socially responsible and ensures the continuity of supply of safe, affordable food while conserving and enhancing the fabric and wildlife of the British Countryside for future generations.
LEAF's vision is a global farming and food system that delivers Climate Positive action, builds resilience and supports the health, diversity and enrichment of our food, farms, the environment and society.
Asplins PO is committed to promoting responsible relationships throughout the top, stone and soft fruit sectors, so that consumers can enjoy our fruit knowing that we have grown, harvested, packed and distributed with care for the environment and respect for all the people involved in the supply chain.
We are investing continually in reducing the environmental impact of our production, and its carbon footprint.
All of Asplins production is certified to EUREPGAP standard of good agricultural practice or equivalent.
All Asplins members are accredited to independently audited production and ethical trading protocols.